| | |
| --- | --- |
| Posted by asad1775 on January 1, 2017 at 4:15 PM | |
If you love the warm scent of cocoa and the refreshing zing of peppermint, you owe it to yourself to try Chocolate Peppermint Rooibos Tea. It's one of the newest additions to the tea collection here at Mad Hatter and definitely one of my favorites here already!
Delicious is Only the Half of It!
I could wax eloquent forever on the special joy that comes from sipping tea with the flavorful blend of chocolate and peppermint. Amazingly, though, there's even more to love about this new tea. That's because it's not your average tea. It's actually rooibos tea (pronounced roy-boss).
If you've never heard of rooibos tea then you're in for a surprise (a good one, I promise!). It's from South Africa, where they've been enjoying the a mild, aromatic taste for years. It's made from a shrub (Aspalathus Linearis) that's found in only one place in the world: the mountains near the Cape of Good Hope.
But what makes it so amazing, besides smooth taste and its relative scarcity? It's the supposed health benefits.
The Health Benefits of Rooibos Tea
For starters, rooibos tea is said to have 50% more antioxidants than even green tea, which is known for its high antioxidant content. And in case you didn't know, antioxidants help fight free radicals, which can damage cells and perhaps even lead to cancer.
The Memorial Sloan Kettering Cancer Center website dedicates a whole page to rooibos tea(https://www.mskcc.org/cancer-care/integrative-medicine/herbs/rooibos-tea), where they state it contains compounds that "may prevent tumor growth and aging processes". They also cite the tea as a treatment for acne, wrinkles, and eczema. People also seem to get relief from insomnia and asthma as well.
Finally, the rooibos tea in Mad Hatter's Chocolate Peppermint Tea is organic. That may mean the antioxidant levels are even higher than average.
I'm no doctor or nutritionist, but I do know one thing: this tea is currently my favorite one in the shop. On taste alone, it's a winner, but add in all those possible health benefits and this is one amazing tea. I'm very proud to offer it to all my customers- stop by and treat yourself to some post-holiday bliss!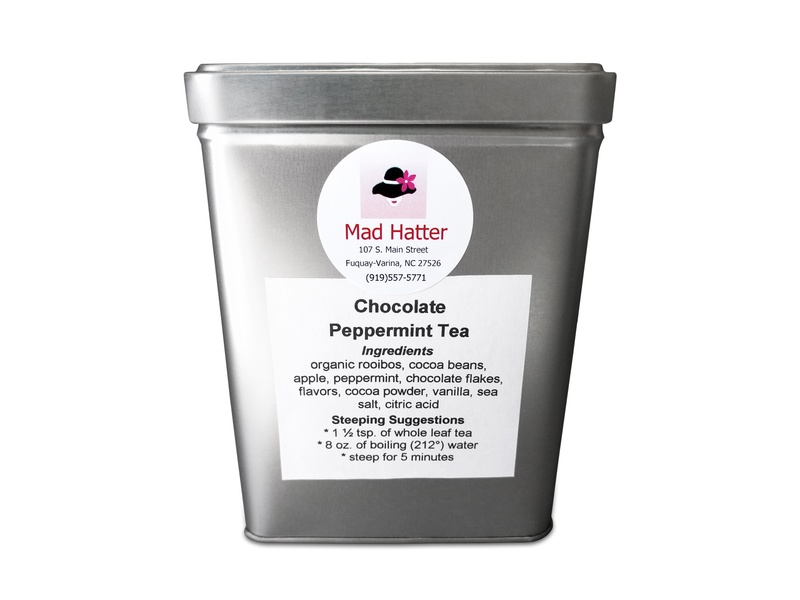 Categories: None