| | |
| --- | --- |
| Posted by asad1775 on March 5, 2017 at 6:45 PM | |
Lavender Hand Lotion.....a Mad Hatter lotion, locally made with goat's milk and honey.
If you know anything about the Mad Hatter, you know I'm all about the ShopLocal movement. By shopping local, you support our community by helping to keep Fuquay-Varina unique and special.
I like to practice what I preach, so I shop local for some of the products I sell in the store too. Right now my favorite happens to be a locally-made lavender hand lotion that's created just for the Mad Hatter store.
Made With Lavender Essential Oil- Nature's Calming Scent
I just love this lavender hand & body lotion for its fresh, clean scent. But many believe lavender essential oil – the type that's used in this lotion – can do more than merely smell amazing. In some circles, lavender essential oil is known to have a calming effect and is therefore used as a healthy and alternative treatment for insomnia, headaches, and even depression.
Now, I'm not one to go promoting quasi-scientific home remedies but I sure do feel happy and calm when I condition my hands with this wonderful, restorative lotion. Call it a treat for the senses, I guess! And if it calms you and helps you sleep, all the better.
A Rich, Beautifully-Scented Hand Lotion Just for the Mad Hatter
This restorative, protective hand lotion is a product I'd select for my customers no matter where it was made. It's got goat's milk and honey, too, which help hydrate and moisturize the skin – naturally, which I know is important to a lot of my customers.
Knowing it's made locally, however, I feel that it's very much in line with my values – and hopefully yours! I love my community, and by sourcing my products locally I'm not only strengthening this town but also reducing environmental impact, too. It feels good to invest in Fuquay-Varina, and hopefully I'm helping to create more good jobs, too.
If you're in the area, stop by and check out my line of locally-produced hand lotions and sprays. We even have the Mad Hatter Signature Scent, created expressly for this boutique. I know you'll love them all.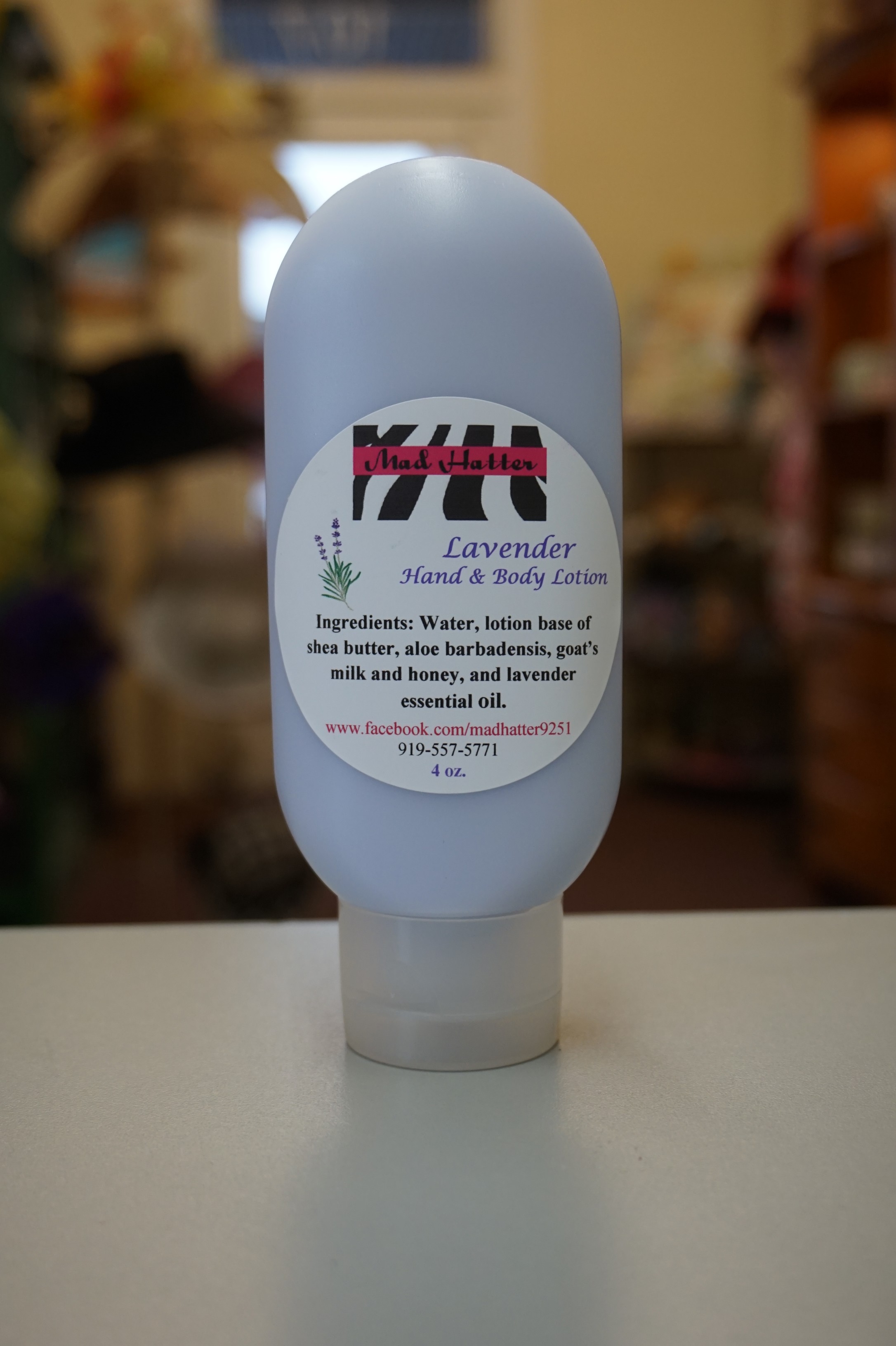 Categories: None