| | |
| --- | --- |
| Posted by asad1775 on May 9, 2017 at 7:55 AM | |
Preakness Season is here. The annual Spring racing fashion event is May 20. Ladies, if you're heading up to Baltimore to attend the races, it's time to start thinking about your wardrobes.
And of course, the most important part of your look is your hat.
But just like the other horse racing events this Spring and Summer, you can't wear just any old hat. There's an unwritten 'code' to the hat styles women wear. Here's your basic guide to what type of hat to wear to Preakness Stakes and all the other exciting horse racing events you plan to attend this year and beyond.
1. Preakness Stakes has a Color Theme
If you were just at the Kentucky Derby, you've got a good sense of what women are wearing this year. As far as hats go, what works for the Kentucky Derby also works for Preakness.
There's definitely a color theme for the Baltimore race, however: Black-Eyed Susan colors! Even a touch of yellow will show you're in the spirit of the day.
2. Oversized Hats are Perfect
There are several advantages to wearing an oversized hat. One very practical reason is that those wide brims cast a shadow and will protect your face and shoulders from the Baltimore sun.
Secondly, think of an oversized hat as a canvas. The larger the hat, the more embellishments it can hold! Race Day hats are best when fully decked out with flowers, but you can venture into the unexpected and get creative.
3. This is Your Opportunity to be a Little Zany
If you're going to wear a hat (I suggest you do, for the sun protection alone), there's no reason to be shy about it. Part of the charm of attending a horse race like Preakness Stakes is that everyone's decked out.
Once the day is over, you can revert to your normal wardrobe but for race day, it's a fantasy land of hats and dresses and seersucker suits.
So, that gigantic hot pink hat that seems like overkill while running errands will fit right in at the races.
4. Fascinators Work, Too
For some, the opportunity to wear a fascinator is too tempting so for race day, that's their choice. Also acceptable!
You may not get the full benefit of sun coverage, but there is an advantage of the fascinator over the oversized hat.
With a fascinator, you don't have to worry your hat is going to blow away. Fascinators can be secured with bobby pins for a footloose and fancy-free day at the races.
And that's how we hope you feel as you attend the races: like you don't have a care in the world except making sure you get a good view of the race. Stop by the Mad Hatter and we'll get you set up with your new Preakness Stakes hat.
Photo Credit: JHR Photography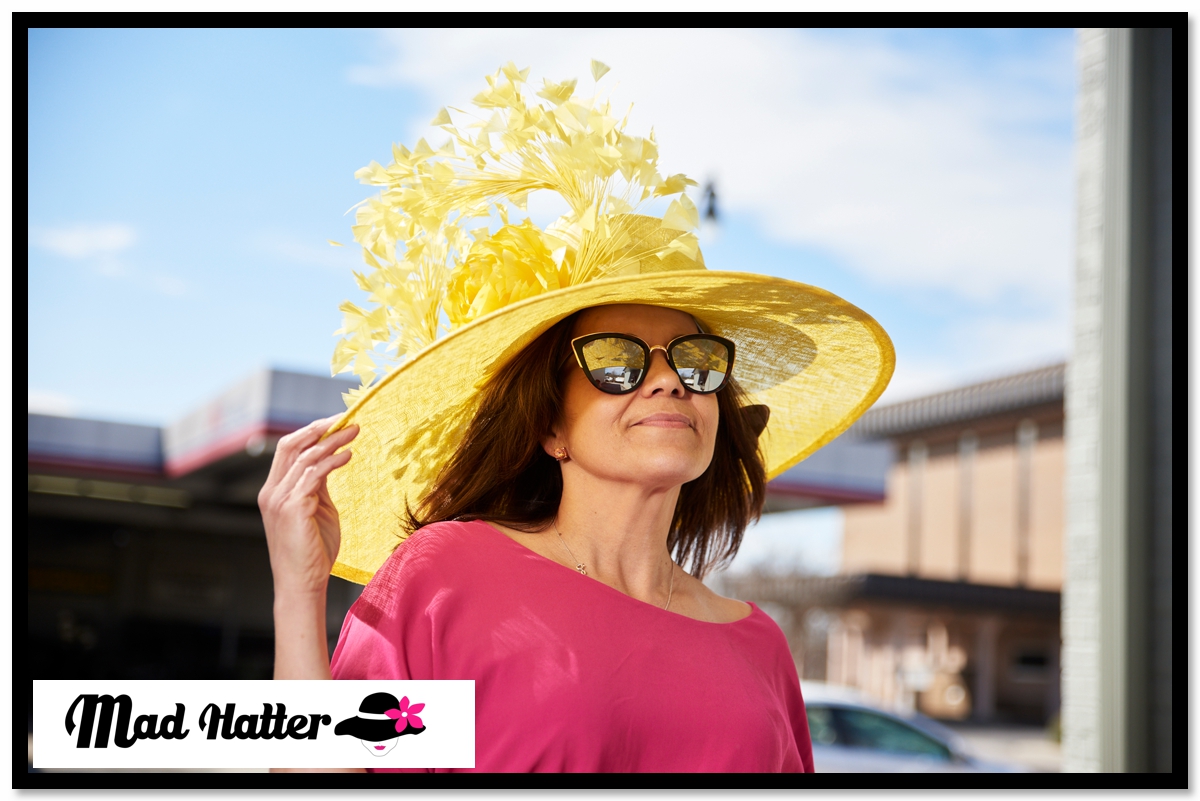 Categories: None