| | |
| --- | --- |
| Posted by asad1775 on July 9, 2017 at 8:30 AM | |
One of the best ways to enjoy a leisurely afternoon is by treating yourself to a good cup of tea. If you've been lucky enough to sample high-quality teas from around the world, you know the distinct pleasures of a good Earl Grey.
We've added two new tea blends to our tea lineup here in the shop. Both are variations on Earl Grey.
Two New Earl Grey Teas at the Mad Hatter
In case you aren't familiar with Earl Grey, it's a blend with a very distinctive flavor. That flavor comes from the bergamot oil, which is derived from the rind of the bergamot orange. The result isn't what you'd describe as 'orange-ey', though. It's more like an exotic, delicious twist on black tea.
Nobody does tea blends like the British, and indeed, Earl Grey is a British creation. Here are the two new blends we have in the shop this week:
1. Buckingham Palace Garden Party Tea
What's more British than Earl Grey tea? Earl Grey tea served at a garden party! We know the Queen is a huge fan of tea, and this one, with its soft notes of Jasmine, seems perfect for an afternoon tea at her palace.
In fact, she does serve this blend at her annual garden party at Buckingham Palace. It's a unique blend created just for that occasion, with green tea as well as black tea. Now it's available at the Mad Hatter, too.
2. Duchess Kate Tea
If you've ever visited the Mad Hatter, you might have noticed that we're a big fan of Duchess Kate.
There's no better ambassador for hat fashion, of course. She does for hats what Brigitte Bardot did for the bikini. Or what Audrey Hepburn did for the little black dress. And more specifically, Duchess Kate has introduced millions of American women to the the special magic that comes from wearing a perfectly placed fascinator.
We're such a great fan of Duchess Kate that we named our second new tea after her. As far as we know, nobody else has a Duchess Kate Tea! Just like her youthful spirit and her impeccable sense of fashion, this tea is light and refreshing. It can be served hot or cold, with or without milk and sugar.
The secret to our Duchess Kate Tea is the double bergamot, which gives the tea a truly rich, exotic flavor.
You don't have to be a Duchess or a Queen to enjoy the finest Earl Grey blends. They're right here at the Mad Hatter. Next time you're in the area, stop by for one of our new tea blends and say hello.
Shipping is available via our Etsy Shop: MadHatterNC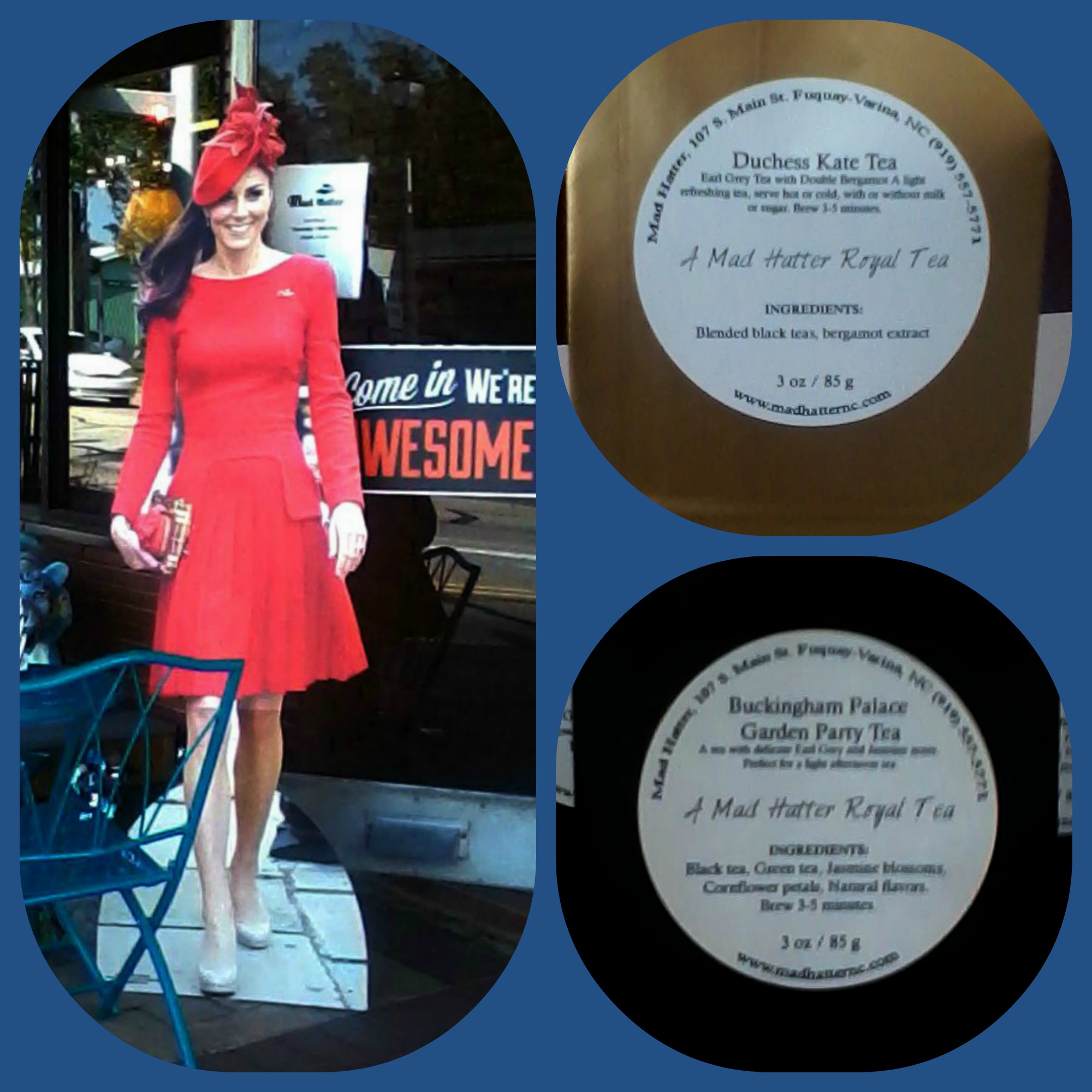 Categories: None