| | |
| --- | --- |
| Posted by asad1775 on September 18, 2017 at 9:05 AM | |
Mad Hatter, Now Selling Blue Suede Shoes
In Rockabilly lore and in the South, blue suede shoes symbolize something that's new, exciting, special, and different. Elvis Presley sang a song about them, and we've named a tea after them.
Something Special, New, Different, and Exciting
That was Elvis alright, bringing a new rhythm to American teenagers who craved something different from the music of their parents' generation. And he sang Carl Perkins' song, which was about the most special pair of shoes a man could own. Made of blue suede, they were completely impractical and not at all easy to clean—but treasured because they were so special.
I'm no Elvis Presley but I'm bringing in something special, new, exciting and different too. The newest addition to our lineup of teas at the Mad Hatter is called 'Blue Suede Shoes'. Like the blue suede shoes worn by the mythical crooner in the famous song, this tea is infused with special qualities that may make you want to sing.
Carl Perkins, who wrote the song that Elvis made famous, never wore Blue Suede shoes himself. But he knew they were something out of the ordinary. That's how we feel about this tea, and here's why we think it deserves such a striking name.
About Our Blue Suede Shoes Tea
This is a green tea made delightful by Blue Pea Flowers and Blue Cornflower petals. Infused with these colorful petals plus Rosehip and Hawthorne fruit, it has a smooth sweetness that, for some tea drinkers, will require no additional sweetener.
For anyone who loves iced tea, Blue Suede Shoes Tea tastes especially smooth over ice. In fact, lots of our customers prefer it that way (but they will tend to add sweetener when it's iced!). And of course, it's fitting that a tea inspired by footwear that originated in the South should be served in the Southern way!
We've come to love this newest tea in our lineup, especially as the dog days of summer continue on into September here in North Carolina. We've been sipping it iced and sweetened every day on our porch as the afternoons extend into the evening. For us right now, there will be no substitute for the mild, fragrant taste of Blue Suede Shoes Tea. Like Carl Perkins wrote and Elvis sang, 'you can do anything but lay off my blue suede shoes'!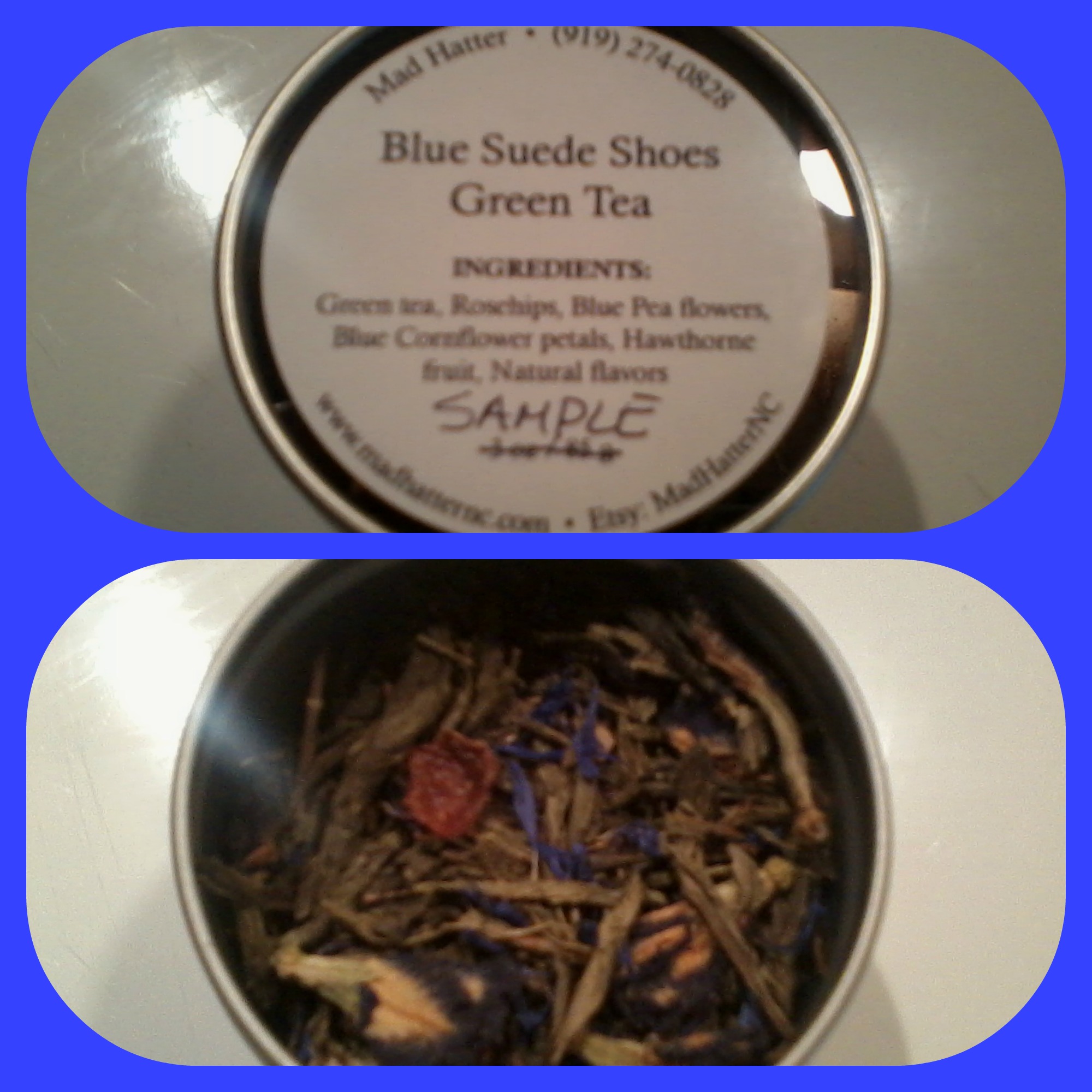 Categories: None